#3 South Africa vs West Indies, Cardiff, 2013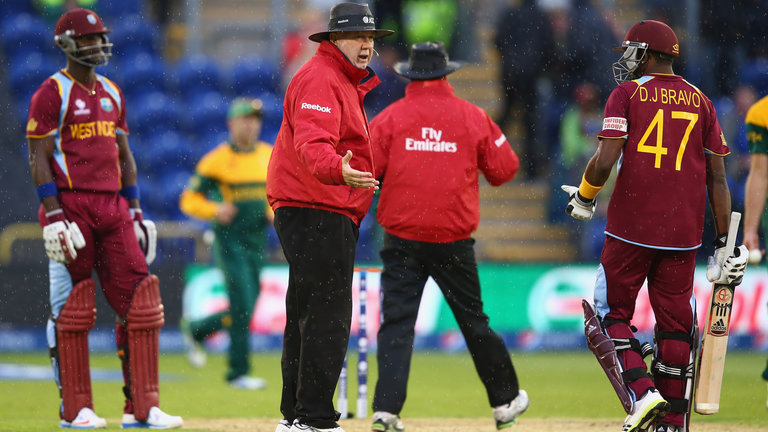 In this Champions Trophy fixture between South Africa and West Indies, the shoe was on the other foot, when a rain trimed match ended in a dramatic tie that knocked West Indies out of the tournament and sent South Africa to the semis. South Africa scored a competitive 230 in their allotted 31 overs, with Ingram scoring 73. West Indies' chase looked to be going nowhere when the opener Samuels started throwing caution to the wind to tilt the match in the favour of the Caribbean side.
However, the skies started to darken and the batsmen knew that Duckworth-Lewis method could come into play. At the end of the 26th over, West Indies looked set to win the contest. Then came Pollard's brain freeze moment. West Indies needed to be on 191 for the loss of 6 wickets at that point, but Pollard threw his bat at a short delivery only to sky it and Steyn took a comfortable catch when the team total read 190. The downpour ensured no further play was possible. If the rain had not arrived, the match would have surely gone down to the wire with Bravo and Sammy on the crease needing 41 runs in 29 balls.
If you wish to continue reading, Please Scroll to next pages by using above or below buttons
Share your thoughts
Are you a cricket expert or cricket lover? Then why you're stopping yourself from commenting. Let us know your thoughts.