#1 South Africa vs England, Sydney, 1992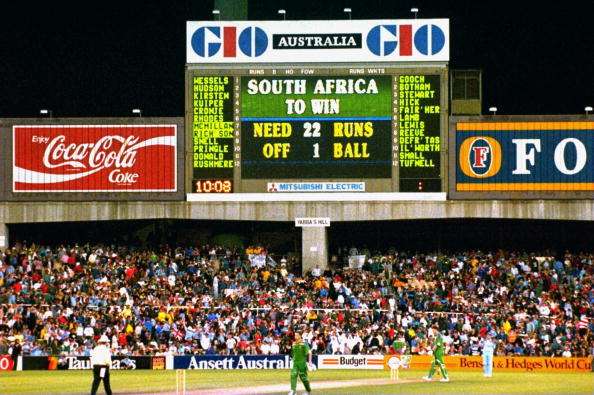 It looked like a fairy tale for the Proteas as long as it lasted. After their re-entry into international cricket, the Proteas seemed to be on a mission to rub it in the faces of those who kept their cricketing talent away from the international cricket. And it all seemed to be going fine for them until that unbearable moment when it started raining during the semi-final. With 5 overs remaining, the Proteas needed 47 to win, the equation changed to 22 from 13 balls before the rain grew heavier. Rain stopped play for 12 minutes and the revised target left South Africa needing 21 runs from one ball, which was a reduction of only one run compared to a reduction of two overs.
The method that was applied into that match is known as 'most productive overs method'. Not many know that the absurd productive-overs method was a brainchild of legendary Australian cricketer and commentator Richie Benaud. The revised D/L target would have left South Africa four to tie or five to win from the final ball.
If you wish to continue reading, Please Scroll to next pages by using above or below buttons
Share your thoughts
Are you a cricket expert or cricket lover? Then why you're stopping yourself from commenting. Let us know your thoughts.