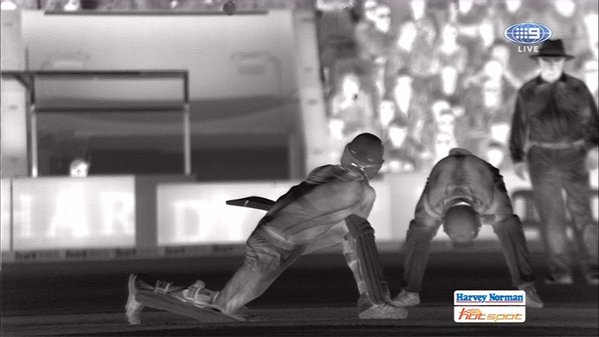 The never-ending debate over the application of the DRS in cricket received further mileage today on 28th November, during the 2nd day's play between Australia and New Zealand in Adelaide after Lyon was given a reprieve off an appeal for a catch despite HotSpot clearly indicating an edge.
The incident took place in the 54th over of Australia's innings in the 2nd session, after the hosts had slipped to 117/8 in response to New Zealand's 202. Lyon attempted a sweep off Mark Craig and the ball ricocheted off his shoulder to first slip. The New Zealand close-in fielders went up in appeal but the on-field umpire adjudged it not-out.
Skipper McCullum called for the review and HotSpot appeared to indicate that the ball had taken edge. Lyon, who saw the HotSpot replays on the giant screen, proceeded to walk back to the dressing room only to be called back.
Lyon, who was yet to open his account then, went on to score 34 in a crucial 74-run  9th wicket stand with Nevill (66) as Australia took a 22-run first innings lead.
#1
Obvious mark on hot-spot, Lyon clearly hit the ball on to his shoulder & he walked off the ground. Ridiculous waste of time & wrong decision

— Shane Warne (@ShaneWarne) November 28, 2015
#2
Horrible 5 mins of cricket & a terrible decision by 3rd Umpire Nigel Long, clearly Lyon was out & not to mention the fact Lyon walked off !

— Shane Warne (@ShaneWarne) November 28, 2015
#3
"There's a mark on the bat but it could've come from anywhere." Today is the day I start wacking myself on the helmet as the bowler runs in

— Jimmy Neesham (@JimmyNeesh) November 28, 2015
#4
Next time I get clean bowled: Yea I know my stumps are everywhere but that could've been from anything.

— Jimmy Neesham (@JimmyNeesh) November 28, 2015
If you wish to continue reading, Please Scroll to next pages by using above or below buttons
Share your thoughts
Are you a cricket expert or cricket lover? Then why you're stopping yourself from commenting. Let us know your thoughts.