286 runs off 1 ball – a fantastic cricket reality?
Cricket might only be a game to some individuals and to some it is their life. But if you look at it properly then cricket is not much different from life. Just like life, a game of cricket is also pretty fickle in nature. Just like life, cricket also gives you moment you can hardly imagine in your wildest dreams. There is one such moment from the year 1894 from the land of Western Australia.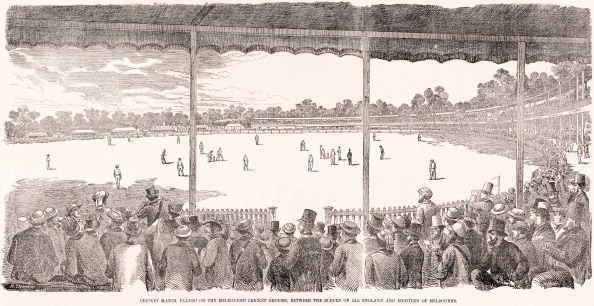 Victoria was playing a local XI from the neighbourhood. Vics batted first and the first ball of the innings was skied in the branches of a jarrah tree which was rooted inside the playing arena. The ball was stuck in the tree and the players of Western Australia side started appealing for the cause of 'lost ball'. Since the ball was visible, umpires didn't accept their appeal. The ball was stuck in a tree out of the reach of the fielders and was still in play. The home team started looking for an axe but couldn't arrange any. In the end, they started aiming for the ball with a rifle. After a few misses, the ball was finally shot down but it was too late by then. The batsmen had already ran 286 runs for that ball.
Yes, the batting side's score was 286-0 after the first ball of the match. They declared the innings immediately and put Western Australia into bat with a lot of work to do.
Since the incidence took place 131 years ago, there is no certainty that this story is true. But it cannot be said with cent percent surety that it is fake. There is no proof of the story being true but there is also no proof of the story being fake. But just imagine this to be true. The batsman will have a strike rate of 286.00 and the unfortunate bowler would be left with an economy of 1716 runs per over.
The most runs of 1 legal ball I have seen is when Travis Birt smashed 20 runs off a delivery from Clint Mckay who bowled back to back no balls which were smashed for six including a six of the next ball as well (6nb + 6nb + 6). In a domestic T20 game in New Zealand, Auckland Aces needed 12 to win off the last ball and they won as the bowler bowled a no-ball which was edged away for four by Andre Adams (2 runs for a no-ball) and followed the legal delivery with a six.
I remember looking at some cricket facts as a young cricket fan in my childhood. There was this fact about 286 runs off a single hit which caught my attention. When I googled it as a teenager I was astonished to find it online. It might be true, might be fiction but it shows the beauty of cricket which can surprise you at any moment.