5 Most Famous Ashes matches of the 21st century
5 Most Famous Ashes matches of the 21st century
21st century is yet fairly young, but it has already had the decency to serve up some magical cricketing encounters – plenty of them coming in the "big Ashes". The Ashes battle royal typically throws up some of the best that Tests have to offer; luckily, we have been blessed with many unforgettable moments over the past decade.
So, with the arrival of  2015 Ashes, let's look back at the five most memorable matches since the turn of the millennium.
#5 Trent Bridge 2013: England won by 14 runs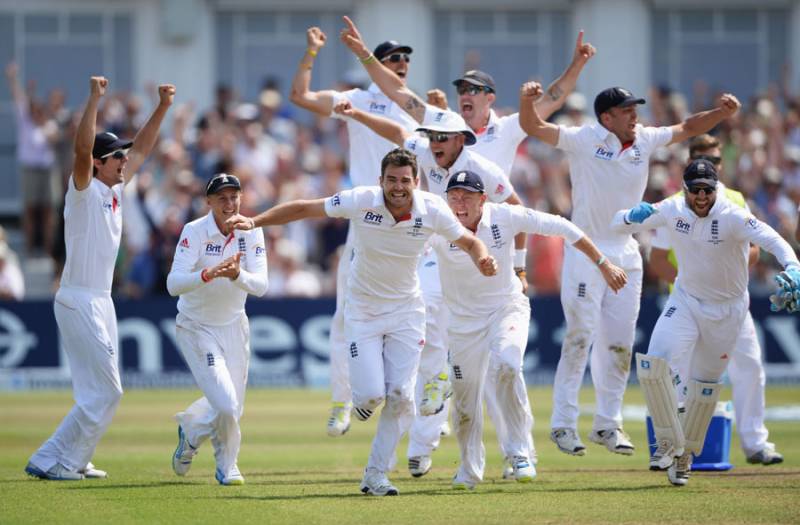 Image Source: GETTY Images
In 2013, Australia arrived in England for the Ashes in disarray and before the series had even got under way in Nottingham, Aussie coach  Arthur had been booted for  Lehmann after the homework gate fiasco, and David Warner had punched Root in a bar. The cricket had taken a back seat.
Australia were plotting about how to recapture the urn for the first time in over 6 years. They began well, bowling out their opponents for just 215 but at 117-9, the opened door was quickly being closed. Then entered a number 11 on Test debut: Ashton Agar.
Alongside Hughes, the two put on what was then the highest 10th-wicket partnership in Test history, the partnership of 163 runs. Agar also nabbed the record for the most runs by a number 11 player, surpassing Tino Best's 95, agonisingly missing out on a famous hundred. But still, from 98 in arrears Australia had taken the lead by 65 runs.
England responded strongly, setting a 4th innings target of 311. Again, the first 9 partnerships disappointed leaving the last stand – this time it was Haddin and Pattinson – to hunt down 80. It looked for all money they would do it as well, and had the review system not been in place they would have. It transpired that a Anderson delivery tickled Haddin's inside edge and travelled through to the wicket-keeper Prior. England won by 14 runs and retained the Ashes comfortably.
Scorecard
England 1st innings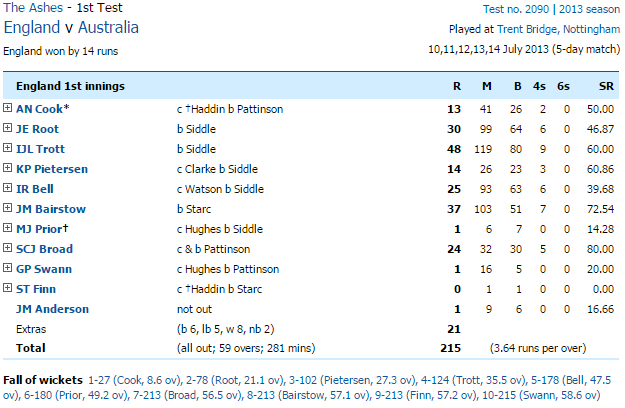 Australia Ist innings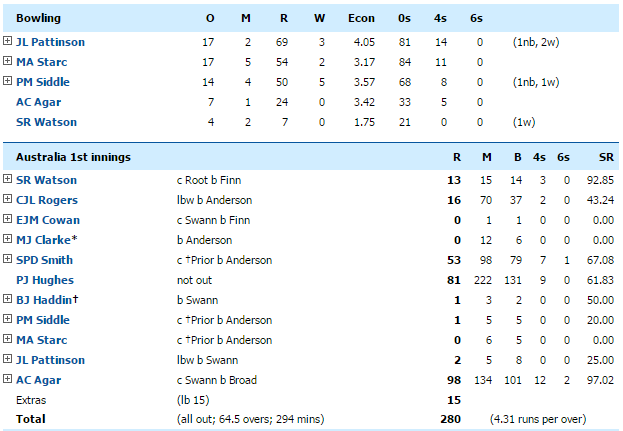 England 2nd innings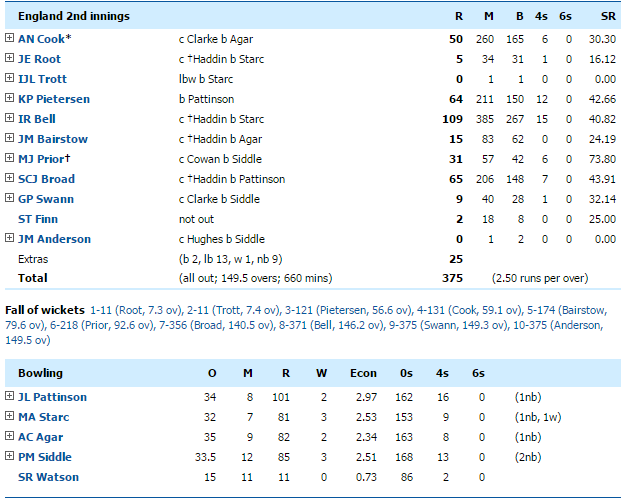 Australia 2nd innings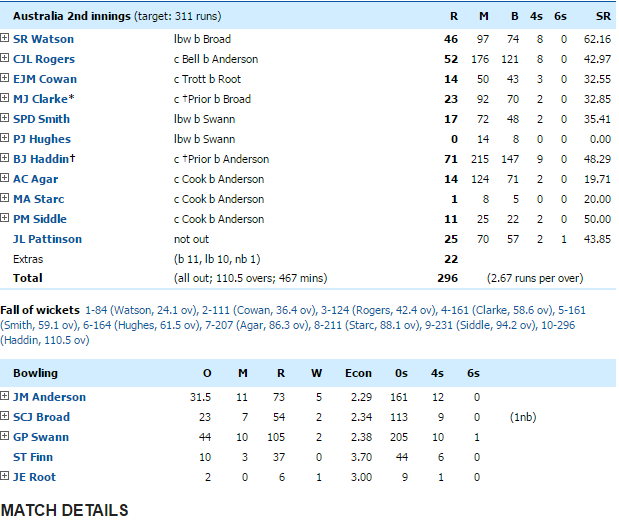 Read also : 5 Craziest No Balls ever bowled in History of Cricket