5 Times Cricket Match was abandoned due to pitch condition
On Friday, 30th Oct 2015, New Zealand's tour match against the Cricket Australia XI was abandoned over concerns of the state of the pitch. The announcement was made after NZ's captain McCullum and team officials visited the match referee's office for a meeting, where it was reported that the visitors expressed concern over an "unfit" pitch.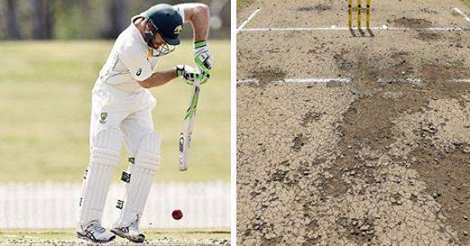 This news brings into focus once again the issue of under-prepared and compromised pitches in cricket, of which there have been several examples. Here I recap a few infamous examples when matches were abandoned after pitch concerns.
#1 First Ever abandoned game
In one of Test's most infamous examples, the 1997-98 Sabina Park fixture between West Indies and England was abandoned after 61 balls due to deliveries rearing up off a length.
That time, England score was 17/3 in 10.1 overs when the on-field umpires Steve Bucknor and S Venkataraghavan, after consulting with the match referee and the 2 captains, called the Test off because of a treacherous pitch. It was the first time in 122 years of Test cricket, and 1396 matches, that a game was called off because of the condition of the pitch.