6 Shameful Acts by Australian Cricket team
Playing tough is one thing and playing rough without caring about the spirit of the game is completely another. Ever since Trevor Chappell infamously bowled the underarm delivery at the behest of his brother, Greg Chappell only to deny New Zealand a victory in 1981, 'play with passion, play hard and play with pride' has been the motto of the Australian Cricket team.
Following the controversial dismissal of Englishman Ben Stokes against Australia last week, where he was adjudged out obstructing the field, with critics suggesting that he was only defending himself after bowler Mitchell Starc threw the ball back at him, networking sites have been abuzz with the unsporting character shown by the Men in Yellow, especially captain Steve Smith, who many believed, should have called back the batsman.
Here are 6 instances in recent history which shows why Australian team is considered to care the least about the sportsman spirit:
#6 Ponting's abusing Srinath after being hit by a bouncer, Australia vs India, 1999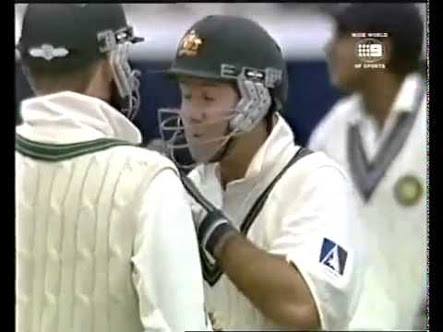 Ricky is known to be a brilliant batsman, probably the best in recent times from Australia but is also infamous for having very little respect for the game. He showed a glimpse of it in the Border Gavaskar Trophy in 1999/00.
Javagal Srinath bowled a bouncer which hit him on the helmet. Even though he is a fast bowler and is bound to have aggression, the 'Mysore Express' showed that he belongs to South India which is known for producing some well behaved cricketers like Rahul Dravid and Anil Kumble. Srinath quickly went to Ricky Ponting to ask him if he is fine. In reply Ponting told him to 'F*** off' followed by a not-so-impressive lip service.
Even though there was no fault of Srinath, he went to Ponting asking about his well being and Ponting replied in a totally inappropriate manner showing no respect for his opposition and the game of cricket