6 times women were faster than men to achieve a record on the cricket field
Unlike Tennis and Golf, Cricket is a male dominated sport and even though women's cricket is slowly gaining popularity, its far less published about than the men's version. The involvement of women in the game is increasing, be it in terms of young women cricketers, female sport presenters or commentators.
Women's first appearance in an international game was as tea servers on the cricket ground but they were not limited to that. They started playing test cricket themselves in 1934 and now they are at a position where they have their own T20 league (thanks to Cricket Australia for WBBL) with televised games which have been well received by cricket fans. Not only this, women have been faster than men to a few cricket achievements. Here is a look at a few such records:
#1 First World Cup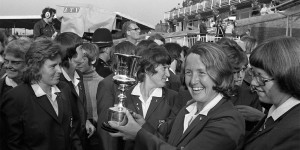 Men played their first World Cup in 1975 but women had already organised their first World Cup a couple of years ago. The talks of a World tournament for Women's cricket begun in 1971 as soon as the first ever ODI match was played. The participating teams were England, Australia and New Zealand with teams like Trinidad & Tobago, Jamaica, Young England and an International XI to make up the appropriate number of teams to host a World Cup. The tournament was won by the home team England.
Women are 1 World Cup edition behind men right now but they certainly outdid them to begin the tradition.