Analysing why several Aussies have been late bloomers in Tests
Unlike many other nations that present young and raw talents to the world, Aussie cricketers make their mark quite late in Tests.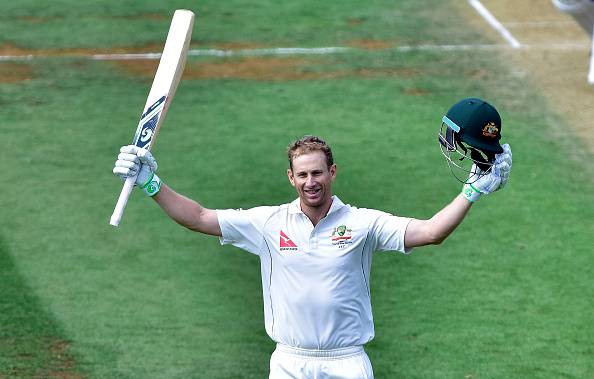 Australian cricket has presented strange case to the world cricketing fraternity in the last few decades. Unlike many other nations that present young and raw talents to the world, Aussie cricketers make their mark quite late in Tests.
Maybe it's because that they have to go through at the domestic level or it's the competition at the international level, but it's certain that there are numerous late bloomers in Australian cricket.
It's not only that Australian Cricket produces players like Mike Hussey who were given a late chance in their careers, but even players who are given a early chance tend to mature late like Hayden.
Though this is a strange puzzle but there must be some clear reasons to why this has existed for a period of time.
Australian Cricketers have to prove themselves first at the domestic level 
A young mystery Aussie spinner dismantles the opposition sounds strange and unheard of, is because the Aussie culture does not draft many players into the international team by just seeing their raw talent.
It is not their style to surprise opposition with some raw talent. Maybe they want a player to go through the litmus test at the domestic first before giving him a go at the International level.
Also, the quality of Australian domestic circuit ensures that once a player plays a considerable amount of first class cricket, he will not struggle much at the higher level.
This is why players like Hussey and Rogers looked so much at home even in the nascent stages of their careers. Not many countries can match the quality of domestic structure of Australia, and thus, there are chances that a young raw talent gets rusted in these nations which does not happen much in Australia.
Competition for spots

Australia and South Africa have been the two most consistent Test teams since the 90s. There have been only a few incidents when we saw a 'weak' Australian team. This is great for their cricket but it also makes it tough for players to break into the higher level team.
Stuart McGill remains one of the best spinners to have not played more than fifty Tests due to the legendary Warne. Brad Hodge was one of the victims of the mighty Aussie batting in the 2000s. Damien Fleming had an unfulfilled career due to the plethora of fast bowlers that Australia had during that time.
It is because of the competition for spots at the international level, that players struggle to break into the international team at a young age, and thus results in late bloomers.
Australian culture that values performances more than age
It is a big thing to perform when you are given an opportunity late in your career because of the pressure of getting a much smaller rope from the selectors. But to get that opportunity, a player needs to be selected, and this is where Australian cricket stands out from other boards.
We will consistently see the 'not so young' players get an opportunity to wear the baggy green.The philosophy of Australian selectors to value performances more than age has worked wonders for them.
Michael Hussey is a perfect example of how investing in experienced players can pay rich dividends. Not only he broke into a team that consisted of legends but he also carved his own niche in that setup.
Credit should be given to the Australian setup which values a player's performance even if he is not in the young age group.
The late bloomers in Australian cricket are a great example of why skill should be given the preference over age. Michael Hussey, Chris Rogers, and now Adam Voges have served Australian cricket in so many ways.
Adam Voges averaged more than a hundred runs per innings in Tests, albeit for a small time.
If Voges was born in India, it wouldn't have been possible for him to even get into the Test side, forget about that average of 100. It is Australian cricket that gives opportunities to so many players in their thirties and late twenties and this is why we see players from Australia blossoming so late in their careers.
Overall, it is an extremely interesting enigma that exists in Australian cricket but though Australian cricket won't mind late bloomers in Test cricket, they would be happier if their youngsters mature a bit early.