Australia's three musketeers who proved old is gold and age is just a number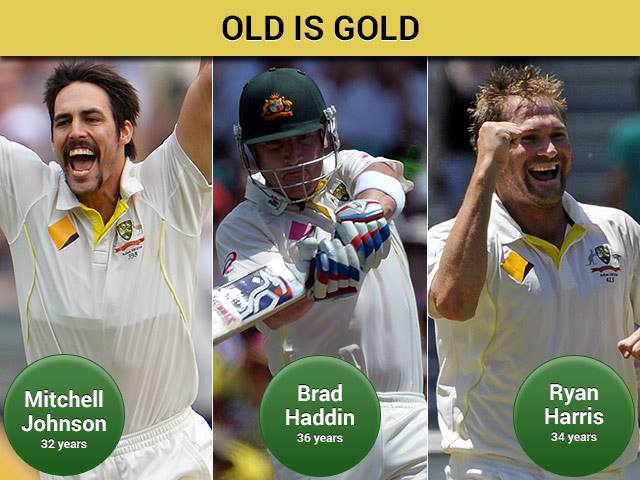 There is no real substitute for experience. And in cricket, experience counts for a lot – shown clearly by Australia's Mitchell Johnson, Brad Haddin and Ryan Harris.
All three players are well above the age of 30. While teams around the world are focusing on young blood and fresh faces, these veterans played a mammoth role in scripting a rare Ashes whitewash against England. Johnson, in particular, was relentless in his attack. The 32-year-old claimed 37 wickets from the five contests and was adjudged player-of-the-series – his second since an impressive showing against South Africa in 2008-09. This time, he deserved it even more than before as his 37 wickets at 13.97 is his career-best performance. He also emulated Bill Whitty's tally of 37 wickets at 17.08 runs apiece in five Tests for Australia. Johnson, on his part, credited fatherhood for his renewed success.
The Australian press – Sydney Morning Herald in particular, though has pondered whether the player-of-the-series award ought to have been shared. After all, Haddin's performance with the bat and behind the stumps was every bit as impressive.
The 36-year-old veteran of 54 Tests finished the series with the best batting average. His tally of 493 at an average of 61.62 in eight innings is the highest by an Australian wicketkeeper and the fourth highest in a Test series – the top three wicketkeepers in terms of run-aggregate being South Africa's Denis Lindsay (606 vs Australia,1966-67), Zimbabwe's Andy Flower (540 vs India in 2000-01) and India's Budhi Kunderan (525 vs England in 1963-64). A day earlier, Haddin had also become only the third wicketkeeper after South Africa's Denis Lindsay and England's Alec Stewart to achieve the double of 20 dismissals and 400-plus runs in a Test series.
While both Johnson and Haddin had been consistent throughout the series, Australia's hero on Sunday was 34-year-old Ryan Harris. His 5/25 crippled an already hobbling England batting unit. That four of his five hauls in excess of five have come against England has backed the argument supporting his selection. At the end of the series, the right-arm pacer had 22 wickets at an average of 19.31 – his second best in a Test series, next only to the 24 scalps (at 19.58) against the same opponents earlier this year.
That three men aged 32 (Johnson), 36 (Haddin) and 34 (Harris) knocked the wind out of the opposition in a format that is still the true test of a cricketer, shows that form does not come from age alone. It comes from talent, will and sheer determination to excel.