Picking 5 best opening pairs in Tests of all time is not the easiest of tasks. With every era, cricket passes through a paradigm shift. Pitches change, attitudes change, style of playing changes; the only thing that has probably not changed is the importance of openers in Tests.
Best opening pairs in tests
Best opening pairs in tests Best opening pairs in tests Best opening pairs in tests Best opening pairs in tests Best opening pairs in tests Best opening pairs in tests
Every great test side that has reached the No. 1 ICC ranking did so on the back of strong performances from its opening pair. Runs scored by openers alone cannot be the parameter or measuring gauge for the best opening pair, considering the number of runs scored is a function of the number of innings played. Cook and Strauss, for example, amassed 4711 runs in 117 innings, the third highest tally of partnership runs. However, their average is only 40.96 although they do well away from home. Similarly, another opening pair, Sanath Jayasuriya and Attapattu, added 4469 runs in 118 innings at 40.26, despite playing on quite a few batting-friendly tracks.
If runs is the only consideration, this is the list of the top 5 partnership pairs:
Greenidge and Haynes – 6482 runs
Hayden and Langer – 5655 runs
Cook and Strauss – 4711 runs
Atapattu and Jayasuriya – 4469 runs
Gambhir and Sehwag – 4412 runs
To decide on a list of the 5 greatest opening pairs in tests, we have given a higher preference to opening pairs who got the job done by scoring bucket-loads of runs while ticking three other boxes:
High averages
High percentage of fifty-plus partnerships
Good performances away from home
#5 Herschelle Gibbs and Graeme Smith (South Africa)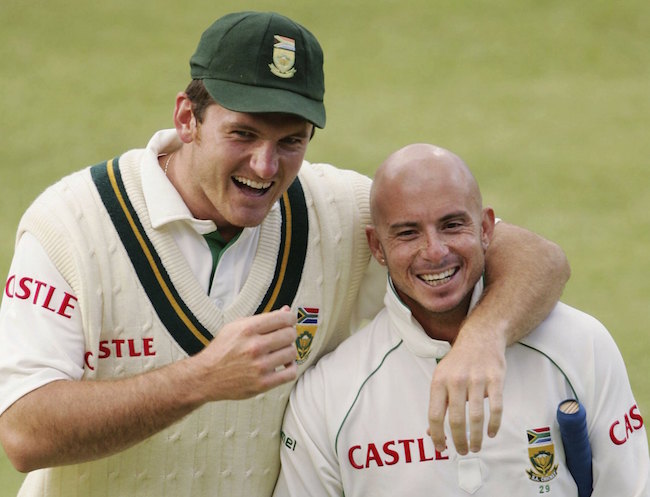 The opening pair is not as celebrated as some of the other pairs and yet between 2002-2008, the pair was quietly efficient, helping South Africa build a great reputation at home and away. They were remarkable at home and equally good away, which is evident from their away average of over 50.
The pair has three triple hundred opening partnerships, almost unheard of in contemporary cricket. The only blip is the absence of data from down under in Australia. That would have been ideal to place them among the pantheon of greats. Nevertheless, the duo managed enough to make an appearance on this list of 5 best opening pairs in Tests of all time.
Innings:
56
Runs:
2983
Average:
56.23
Away average:
53.85
Hundreds:
7
Fifties:
10
If you wish to continue reading, Please Scroll to next pages by using above or below buttons
Share your thoughts
Are you a cricket expert or cricket lover? Then why you're stopping yourself from commenting. Let us know your thoughts.