5 Funny incidents in cricket involving Umpires
Umpiring is one of the most difficult on-field job. Despite seriousness attached to the role, most of the umpires ensure that they keep the air as light as possible by getting involved in friendly interactions with players.
There have been quite a few funny incidents on the cricket involving umpires in a prominent role. While some of these incidents were pretty intentional, others just happened in the spur of the moment.
Although there have been  many incidents where umpires have made us laugh, we have picked best 5 out of them.
#5 Umpire Daryl Harper runs away from a stray dog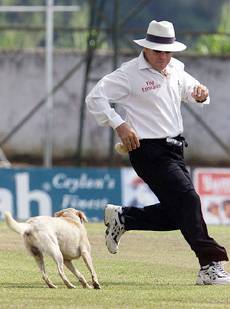 This scene made him resemble Hollywood actor Bruce Willis, Harper was one of the popular umpires of his time. In his career, he officiated in as many as 94 Tests and 174 ODIs before he decided to retire in the year 2011.
Humour was one of the great assets of him and he had some funny experiences during his long umpiring. One of these came during a Test between Sri Lanka and New Zealand at Kandy in 2003.
Somehow, a stray dog managed to make it to the field and started to run about helter-skelter. At once, the dog was seen heading towards Daryl Harper even as the umpire tried his best to avert its attention, much to everyone's amusement.