Ravindra Jadeja resounded the confidence bells ahead of the first Test between India and England which will begin on Wednesday, at Edgbaston.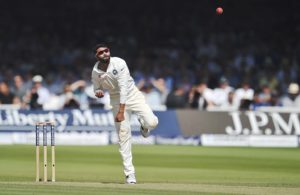 Jadeja conversed to ESPNCricinfo that India have a better chance to win in England this time compared to 2014 because they have more experienced players."If you see, most players in our team have played a minimum of 25-30 Test matches. Experience counts in Test cricket," Jadeja said.
"We had no prior experience on English wickets, its conditions. Now we are more experienced in those aspects and since we have played a fair bit of Test cricket, I think this time we can dominate them, let alone just fight in the series."
Have India's fast bowling options put a lot of pressure on their spinners?
Jadeja said the choice of bowlers depends on the given conditions and it is then when team combinations are decided upon.
"It is not that the ball doesn't spin in England. We have seen in the past that it does. So the team combination is decided particularly after seeing which bowler will be effective."
"Anything is possible. Kuldeep (Yadav) has done well in the past and it gives India more options. Unlike many other teams that struggle to find replacements after a top fast bowler or spinner retires, we have everything now. That makes me convinced that if there is any team at the moment which can beat England in their own den, it is India," Jadeja said.
He, however, laughed when asked if he had any message for England or their premier fast bowler James Anderson. "He is my friend now," said the left-arm who has taken 171 wickets in Tests so far, 38 of which have come against England.
Share your thoughts
Are you a cricket expert or cricket lover? Then why you're stopping yourself from commenting. Let us know your thoughts.