Red Ball, White Ball and Pink Ball in Cricket – The Difference
Red Ball is used in Test Cricket while the white one is used in ODIs. Now, with the introduction of pink balls for day and night Test Matches, there is a bit of speculation about why the change is needed. Here, we take a look at the colour of the balls in relation to the type of the game being played.
Cricket was being played only during day times. Test Cricket and First Class matches were played with the traditional red ball, and the trend continues today as well.
Red ball provides greater visibility during day time, and is suitable to be used almost for the entire day of play, before it begins to get worn out.
Changes were made in cricket to promote it among the fans, and day & night ODI matches were introduced in the game. Since the Red ball provided less visibility under floodlights, there was a need for an alternative and hence came the white ball into play. Since white colour is more visible at night compared to red colour, they were being used in day and night ODIs, after this white ball was selected in all ODI matches.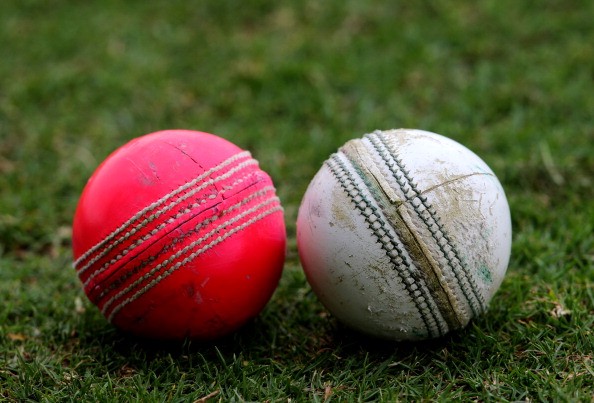 Why the pink ball was brought into play
Because of the introduction of T20 cricket, Test Matches are losing steam among the audience. Most of the Test matches these days are played with less filled stands or empty stands in some Asian Countries, and fans are beginning to become content with just checking scores on online websites. Hence, the introduction of day and night matches in Test cricket seemed more or less on the cards. But then again, an alternative had to be found to counter the restricted visibility of red ball in the night, and thus was introduced the idea of using a pink ball.
Pink ball uses an additional pigment to increase its brightness, thus making it clearly visible under floodlights.
The pink ball was tested in a few first class matches, and it received mostly positive views, although a bag of criticisms also came. During the trial matches, the pink ball swung more than the red one, leading to a section of people to claim that the ball might affect the course of the game.
But the stage is all set for the ball to make its attack into Test cricket this November. The first such day and night Test match using the pink ball is scheduled to be played between mighty Australia and New Zealand from Nov 27 at Adelaide. Will this add a new dimension to cricket and bring back the audience to watch the good old Test matches?