Rohit Sharma reprimanded for showing dissent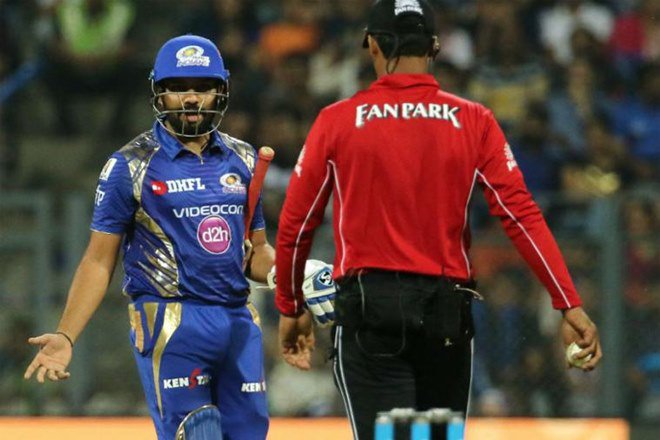 Rohit Sharma is not having an ideal 2017. Injuries made him sit out for most of the home season and his chance to prove he can be a good test player too was blown away. And as many Indian batsmen are in form, the pressure is on the Indian opener to score some runs as the Champions Trophy is just round the corner.
So that's the background and the scenario is it's a Sunday blockbuster match, MI playing against mighty KKR at jm-packed Wankhede stadium and MI are chasing 179. So, MI need their captain to step up and lead from the front. But umpire CK Nandan gave the MI captain out LBW in the 10th over when there was a clear thick inside edge before ball hit his pads. And Sharma couldn't hold himself back from showing emotions. He was seen making angry gestures at the umpire which is definitely against the idea of the Gentlemen's game. But yes it was a howler by umpire Nandan and one might feel, the match was on the line too. Umpiring throughout this season is below par. And some easy decisions have been given wrong.
"Rohit Sharma, the Mumbai Indians captain, was reprimanded by the match referee for showing excessive, obvious disappointment with an Umpire's decision during his team's contest against the Kolkata Knight Riders at the Wankhede Stadium."
-The official statement from BCCI
Rohit Sharma isn't the first one who has got into trouble this IPL. Earlier former Indian captain MS Dhoni was also reprimanded because he asked for a review for a plumb LBW when umpire gave it not-out. It was Dhoni's sense of humor and Sharma's frustration that got them into trouble.