The 5 most Amazing images in Cricket History
The 5 most Amazing images in Cricket History
The game of cricket has become a popular game  and is followed by millions of fans all over the world. In a sport as old and popular as cricket, there are many amazing  moments that have captured a permanent spot in the hearts of many people.Here's a look at the 10 most amazing  images in Cricket history.
#1 A bee Atack During AUS vs IND Match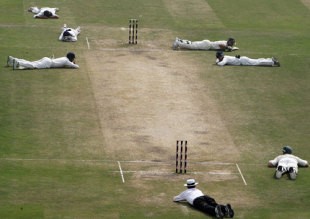 The Ferozeshah Kotla Stadium is always known to be buzzing with thrill & enjoyment during a clashes, but this time, it was the bees that were the source of the buzzing, forcing the umpire and players to lay flat on the pitch.