#2 Alan Davidson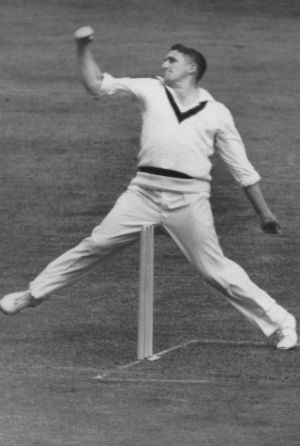 Alan Davidson announced himself to the world with his flabbergasting performance on a tour to South Africa in 1957-58, when he took 72 wickets and scored four half-centuries. For the next 5 years, he firmly plonked himself into the team as a punishing bowler of the new-ball and a dangerous striker in the lower-middle order.
An injury prone Davidson, performed best when he was put to test –  whether it was famous tied Test against the West Indies in the 1960-61 series, where he scored his career best 80 in the chase along with captain Benaud and also took 5/135 and 6/87 in the two innings, with a broken finger or the notable contributions he made at Lord's with an injured back, the following year.
He toured India in 1959 and took 30 wickets in six Tests at an average of just 15.77. As a mark of respect for his great contributions to the game and as a gesture of appreciation, Davidson was inducted into the ICC Cricket Hall of Fame in 2011.
If you wish to continue reading, Please Scroll to next pages by using above or below buttons
Share your thoughts
Are you a cricket expert or cricket lover? Then why you're stopping yourself from commenting. Let us know your thoughts.