#1 Merv Hughes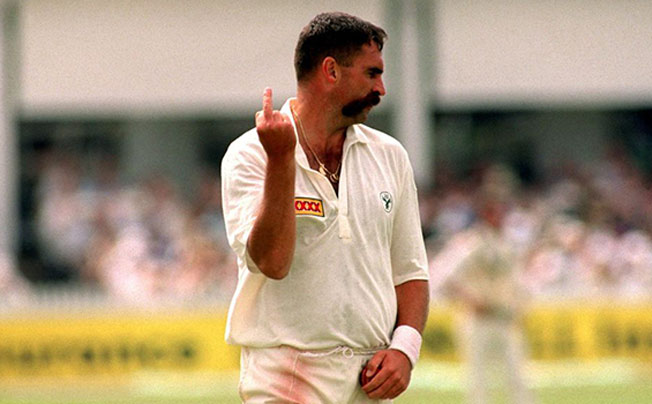 "It's four years since I bowled to you and you haven't improved."
The undisputed #1 Aussie sledger is Merv Hughes.
If you look up a list of Hilarious sledging in Cricket, nearly half of them have come from the moustachioed mouth of the Victorian. Hughes's on-pitch persona and sense of humour were a large part of his success as a bowler. He was extremely aggressive, using fearsome stare to unnerve batsmen, as well as regular chat, jokes and threats.
His sledges range from the crude to the genuinely witty—from blunt swearing to advising Robin Smith to read the back of his bat for instructions on how to bat.
Hughes stands on top of the Aussie pedestal of sledging.
David Warner and the current Baggy Green side would do well to look back and see that sledging is not pure aggression. Humour is an important part that gone missing in modern-day cricket.
You may also like: 12 Most Hilarious Sledging in Cricket
You may also like: 6 times when Australian sledging met with the fitting response
You may also like: 5 moments when a batsman smashed six after sledging
If you wish to continue reading, Please Scroll to next pages by using above or below buttons
Share your thoughts
Are you a cricket expert or cricket lover? Then why you're stopping yourself from commenting. Let us know your thoughts.