Twitter reacts to Gayle's controversial on-air comments
Gayle's cheeky comments on air to Channel 10 reporter Mel McLaughlin drew plenty of criticism from all quarters. Gayle's response to a question about cricket was to ask the reporter out.
Gayle's Statement
He said:
"Your eyes are beautiful, hopefully, we can win this game and then we can have a drink after as well. Don't blush baby."
Unsurprisingly, his comment has come under fire on Twitter, with some taking his side, others dismissing as nothing but a tongue-in-cheek comment that should not deserve so much attention.
Head of BBL
Everard, Head of BBL, said:
"I heard Gayle's comments and they are disrespectful and simply inappropriate. We will certainly be talking to him and the Renegades about it. This league is all about its appeal to kids, families and females. There's just no place in the BBL or, for that matter, cricket anywhere, for that sort of behaviour."
Channel 10
While Network 10 didn't help matters, as they tweeted this, but later deleted it.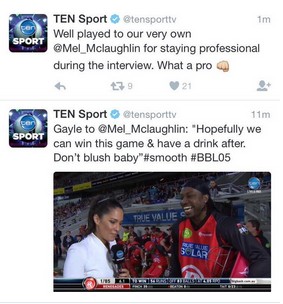 Here are some important tweets,
#1
Well played @Mel_Mclaughlin !! Big fan of @henrygayle but made himself look a bit of a chop there @tensporttv #bbl05

— andrew flintoff (@flintoff11) January 4, 2016