Virender Sehwag has denied his retirement reports
One of India's greatest cricketer, Sehwag said he will draw curtains on his international career soon as he confirmed his participation in next year's Masters Champions League, where only retired cricketers can play. 
Sehwag's decision comes only 2 days after one of his best fellow Zaheer Khan decided to call time on his career.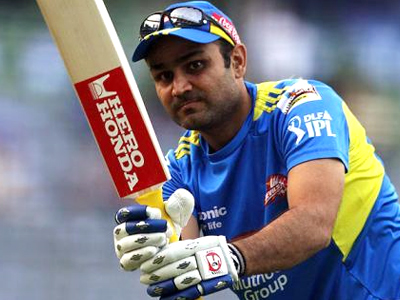 A day before his 37th birthday, Sehwag was today unveiled at the launch ceremony of Masters league in Dubai. 
When Sehwag, who was present alongside Lara, Graeme Smith and Azhar Mahmood at the launch, was asked how he could play as MCL is a retired cricketers' league, Sehwag said,
"If I am not retired I will not play. I will go back to India and announce my retirement."
MCL is supposed to be played in February next year, which means that Sehwag will complete his Ranji Trophy commitments with Haryana before joining Masters league. 
In a glorious international career spanning over 12 years, Sehwag played 104 Tests scoring 8586 runs at an impressive average of 49.34, hitting 23 centuries and 32 half-centuries.  He is the only triple centurion in Tests for India. In 251 ODIs, he accumulated 8273 runs at an average of 35.05 and scored 15 hundreds apart from hitting 38 fifties.  In 19 Twenty20 Internationals, he managed 394 runs with two half-centuries.