5 occasions when a team lost the match despite scoring 500 in the first innings
If a team succeeds in scoring a total in excess of 500 in the very first innings of a Test match, they are often considered as more likely  to win the match. However, things may not always run so smooth if the opposition team is strong and determined and possibly turn the tables.
Recently, during the 1st Test of a 3-match series between Pakistan and West Indies, the former score 579 for 3 in the first innings. The West Indians were left behind by 227 runs but countered the hosts away for 123 in the 3rd innings. While chasing 346 to win, they frightened Pakistan before folding up for 289 and losing by 56 runs.
Although in the history of cricket there have been 6 instances when teams scoring 500 runs or more in the 1st innings of the match have ended up in losing the match. Here is a detailed look at 5 of them:
#5 Australia beat England by 6 wickets, Adelaide, 2006/07 Ashes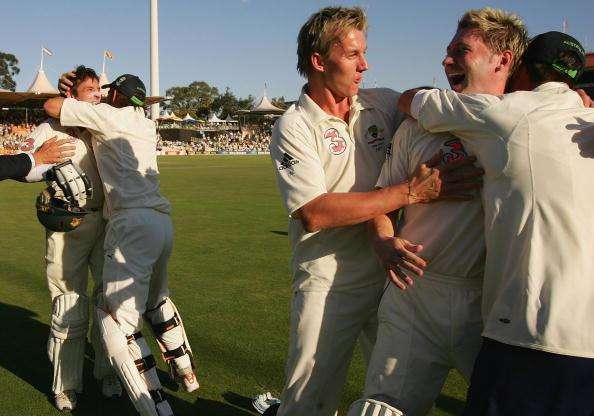 England 1st innings score – 551 for 6 dec.
During the follow-up series to the iconic 2005 Ashes series, England had marked an unforgettable 2-1 win against the odds. The Australians were totally ready for revenge and kicked off the series with an outstanding  277-run victory in the first Test at Brisbane.
Athough in the second Test at Adelaide, the things seemed to be going in England's favour as they batted first and scored a double century from Paul Collingwood to register a huge total of 551 for 6 in their first innings.
However, the Australians were ready to face the challenge and succeeded in notching up 513 runs, with the help of centuries from Ricky Ponting and Michael Clarke. This was followed by an impressive bowling performance, led by Shane Warne's 4 for 49, which resulted in dismissal of English for just 129.
With just 168 runs to chase in the 4th innings, the Aussies finally finished the game in 32.5 overs with 6 wickets still in hand.