Wirral Cricket Club 3 all out in 'freak performance'
~ Ten ducks and three all out! ~
::: English club side all out for three :::
Extras the top scorer for English club side Wirral
It's a scorecard that has to be seen to be believed: three all out, in 9.2 overs, with leg-byes the top score.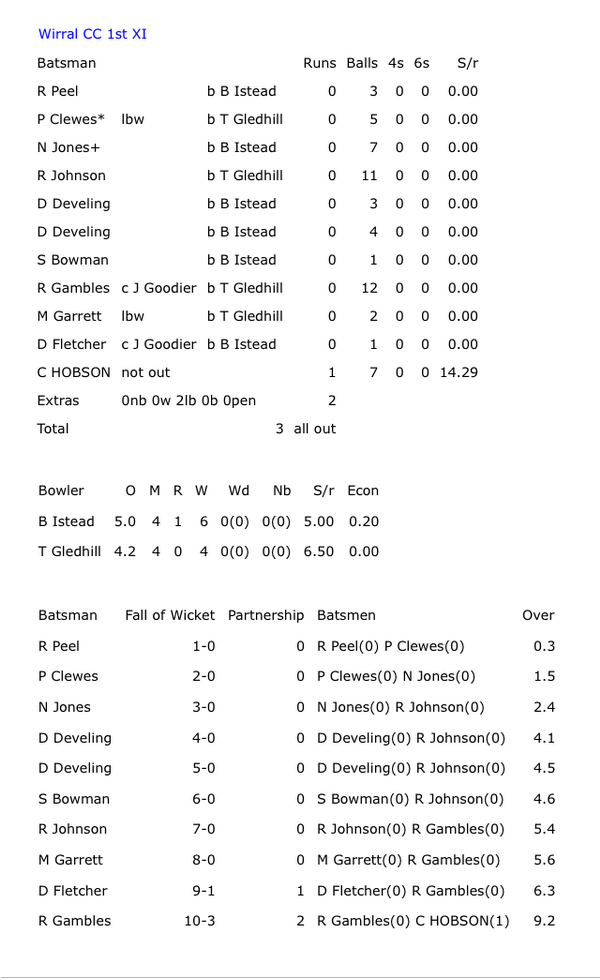 It is every batsman's worst fear: stepping on to the field only to be dispatched for a duck.
Wirral captain Pete Clewes, said: "It was just a freak performance.
"We bowled well. We fielded well. We bowled them out for 108, and we were feeling perfectly confident when we went into bat, but for some reason we all just batted atrociously. It was extraordinary."
England cricket has had some low days – a 5-0 Ashes whitewash last summer, losing to the Netherlands at the World T20 for a second time – but a club side in the country's north-west has set a new benchmark for embarrassment.
Wirral Cricket Club, near Liverpool, were dismissed for just three against Haslington in a Cheshire League Third Division match. Extras were the top-scorer courtesy of two leg-byes.
There were 10 ducks in the Wirral innings, with No 11 Connor Hodson the only member of the visitors' side to score a run off the bat.
That Wirral managed three was something of an achievement after they were reduced to eight down for no runs, in an innings that lasted fewer than 10 overs.
Ronnie Gambles, who took 3-24 in Haslington's innings, showed some spirit and dug in for 12 balls before he was bowled. The next longest-stay at the crease for Wirral was Rolin Johnson's 11-ball vigil.
Haslington bowler Ben Istead claimed six wickets but had his figures ruined – comparatively – when Hodson snuck a run. He finished with 5-4-1-6 while fellow opening bowler Tom Gledhill taking 4-0 in 4.2 overs to wrap up a 105-run win.
Wirral should, perhaps, have known they were in for a tough day. Gledhill, a left-arm spinner, took 128 wickets last season with a strike-rate of 15 and an average of six, with his best figures of 9-30 coming against Rylands CC.
Six of the wickets to fell were bowled, while two, including Wirral captain Peter Clewes were triggered lbw. Credit goes to Gambles and David Fletcher for at least getting bat on the ball with both caught by J Goodier.
Haslington might have been a bit worried after making only 108 themselves before the carnage after the tea interval. Clewes was perhaps satisfied with his side's work after he had won the toss and elected to bowl.
However, as bad as it seems for Wirral, sides have been bowled out for less. There are instances of sides being bowled out for 0, with the first recorded being Somerset club Langport's woeful effort against Glastonbury in 1913.